美国EPIX公司是一家Cameralink接口的图像采集卡的生产厂商,该公司的采集卡支持Raptor Photonics公司的相机,实现相机的控制和图像采集:

1. 多种总线接口类型:PCI、PCI Express (x1、x4、x8)、ExpressCard 34/54、嵌入式PCI Express (mini/104);
2. 支持多种数据接口:单Base、双Base、Base/Medium/Full/Full 80。
基于PC采集卡-PCI Express总线: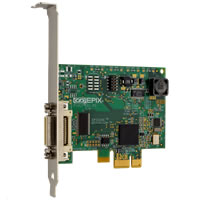 Optional removal of 9-pin connector
PIXCI EB1-NDB9
支持单Base Cameralink相机

PCIe x1总线接口

像元时钟25MHz~85MHz

任何PCI Express插槽中运行

200MB/s的持续传输速率
Options:
Base Camera Link Frame Grabber
PCI Express x1
Low Profile
Standard or low-profile bracket available

Optional standard height bracket with Dsub for trigger,etc.
Specifications:
12 V @ 90 mA, 3.3 V @ 120 mA
8.38 cm long, 6.88 cm high, 3.30" long by 2.71" high
48 grams, 1.7 ounces
0 to 70 degrees Celsius operation
CE, FCC, & ROHS Compliant
Accepts camera pixel clocks from 20 to 85 MHz
Software:
XCAP-Lite image capture, display, and save program included with frame grabber purchase
XCAP-LTD captures video to computer memory and more..
XCAP-STD streams video to disk and performs image processing and more..
PIXCI Selection Guide lists cameras supported with dedicated Capture & Adjust dialogs
XCAP supports all camera link cameras connected to PIXCI® frame grabbers
XCLIB programmer libraries for frame grabber and camera control
PXIPL image processing, measurement, and analysis libraries
Windows & Linux, 32 & 64-bit
TWAIN compatible
3rd Party software solutions also available.