美国EPIX公司是一家Cameralink接口的图像采集卡的生产厂商,该公司的采集卡支持Raptor Photonics公司的相机,实现相机的控制和图像采集:

1. 多种总线接口类型:PCI、PCI Express (x1、x4、x8)、ExpressCard 34/54、嵌入式PCI Express (mini/104);
2. 支持多种数据接口:单Base、双Base、Base/Medium/Full/Full 80。
基于PC采集卡-PCI Express总线: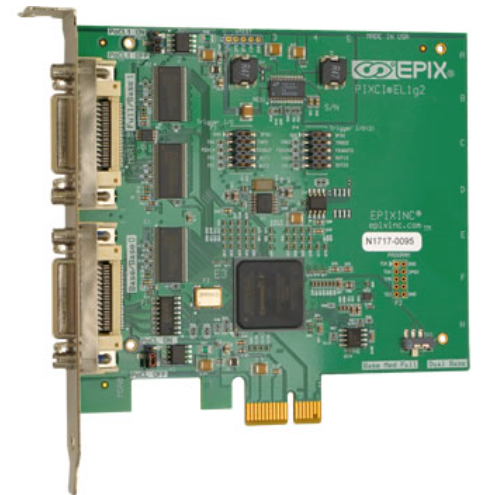 Full, Medium & Dual Base Camera Link Frame Grabber
PCI Express x1 Gen 2 Bus
支持单Base/Medium/Full或双Base Cameralink相机

PCIe x1总线接口

像元时钟20MHz~85MHz

在任何PCI Express插槽中使用

每秒5Gigbit突发DMA传输速率

413MB/s的持续传输速率
Capture
Base Camera Link camera
Medium or Full Camera Link camera
Switchable to Dual Base Camera Link
Data rates up to 409 megabytes per second
Line scan or area scan cameras
Monochrome or color cameras
Individual lines or frames
Continuous video
Triggered image sequence

Trigger and I/O
Camera exposure and asynchronous reset control
Trigger and frame enable inputs
Strobe output
General purpose inputs and outputs

Specifications
3.3 volts @ 310 mA
12 volts @ 200 mA
Average power: 3.423 W
13.13 cm long, 10.55 cm high, 5.17" long, 4.153" high
98 grams, 3.4 ounces
0 to 70 degrees Celsius operation
CE, FCC, and ROHS compliant
Camera pixel clocks from 20 to 85 MHz
Made in U.S.A.

Software
XCAP-Lite image capture, display, and save program included with frame grabber purchase
XCAP-LTD captures video to computer memory and more..
XCAP-STD streams video to disk and performs image processing and more..
PIXCI Selection Guide lists cameras supported with dedicated Capture & Adjust dialogs
XCAP supports all camera link cameras connected to PIXCI® frame grabbers
XCLIB programmer libraries for frame grabber and camera control
PXIPL image processing, measurement, and analysis libraries
Windows & Linux, 32 & 64-bit
TWAIN compatible
3rd Party software solutions also available.